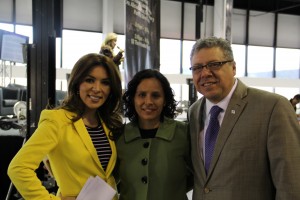 This past weekend, Sonia Spar, Coordinator of Latino Community Relations at ADL and Tsi-Tsi-Ki Felix, host of Univision America Chicago participated in a discussion on the detrimental impact of bullying and cyberbullying in the Latino community at Familia y Hogar.  During their discussion they explored the critical importance of speaking to children about the negative impacts of bullying and the importance of reporting incidents to the appropriate authorities. Sonia went into great detail about ADL's history of fighting anti-semitism and hatred and the tremendous resources the League provides the community at large.
Tsi-tsi-ki Félix formerly was a principal anchor at Telemundo Chicago, and is now working as a co-anchor of Despierta America which is a nation-wide radio show.  Ms. Felix is best known for her efforts in tackling challenging issues facing Latinos.  These issues range  from immigration to healthcare to violence in the streets. She has also served as a national correspondent for Noticiero Telemundo the national newscast and programs such as "Todobebe," "Hoy," and "Cotorreando".
Familia & Hogar is a large, elaborate Expo sponsored by Univision that focuses on two integral themes in Hispanic life- family and the home.For two days over 5,000 Hispanic families from across Chicagoland have the opportunity to participate in seminars and demonstrations from a variety of sectors including  home, health, fitness, finance, and nutrition.
Javiar Salas, Senior Advisor for Governor Pat Quinn was also in attendance and there to support the outreach efforts to the Latino community.